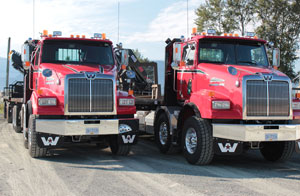 The Langley Concrete Group has taken delivery of two 2011 Western Star trucks equipped with Hiab knuckle boom cranes and new Langfab quad axle trailers. The two new vehicles are designed to upgrade and modernize the fleet of nine trucks currently operated by LCG.
The Western Star trucks are powered by the new Detroit Diesel state of the art emission controlled engines resulting in reduced carbon footprint. The Hiab cranes have the most up to date safety and control functions to help reduce overload situations and operator fatigue.
Mark Omelaniec company President had this comment;
"We are proud to have and maintain our own fleet of vehicles to insure that the service to our customers is maintained at the highest possible level. The addition to our fleet, one for the Chilliwack location and the other for our Lombard plant on the island, is another example of our dedication to our customers and our employees.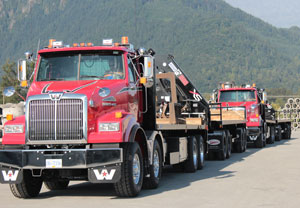 In this day and age of outsourcing and contracting work out, management of The Langley Concrete Group is dedicated to insuring our employees have the opportunity to prove we are customer focused. This can not be done without us having control of our shipping operations; these new vehicles reinforce our commitment to having the best possible equipment for our employees.
This investment is not only more environmentally friendly but also with the increased efficiency and fuel economy we will recognize quicker turnarounds resulting in less time spent doing the same work and less impact on the environment."
For more information on our Distribution department's ability to assist you please contact us at; service@langleyconcretegroup.com