Koneshwaran Sivalingam (Koni Siva) was officially recognized as a Professional Engineer in a ceremony held by the Association of Professional Engineers and Geoscientists of British Columbia at the Fairmont Pacific Rim Hotel in Vancouver on September 13th, 2012.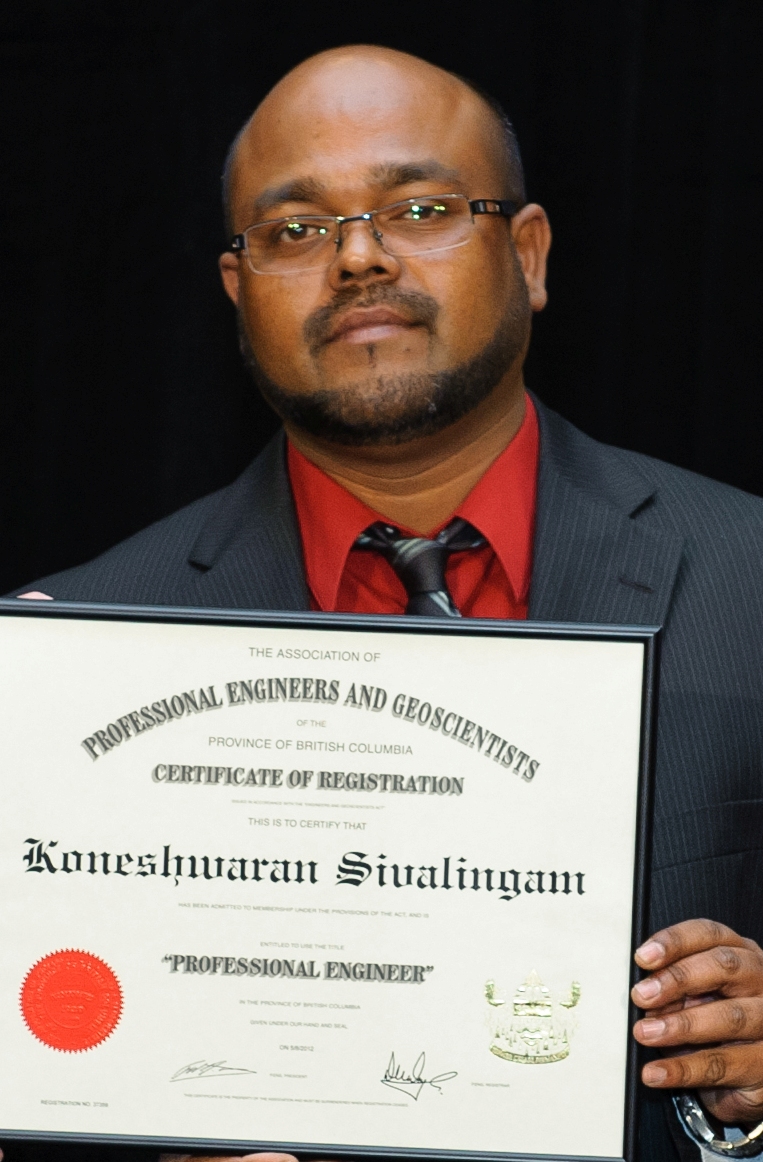 Koni proudly displaying his official certificate of registration.
Koni has worked as an Engineer in Training for The Langley Concrete Group for the past five years mentored by Mr. Willam Dunn, P.Eng. who is our Lombard Precast LP Manager and Langley Concrete Group Engineering Manager.  Koni also utilized many friends of the company and industry engineering experts such as Mr. Josh Beakley of the American Concrete Pipe Association and Mr. Mel Marshall of MCM Sales.
While working as an E.I.T. Koni has challenged himself to learn the intricacies of our industry and the many components of manufacturing quality concrete products.  His natural inquisitiveness has led to discovering newer and better ways for the company to look at traditional manufacturing and quality control methodologies resulting in improved products and efficiencies.
We are proud that Koni has reached this point of his career and the company welcomes his accreditation which broadens the engineering capability of our company and allows us to increase our abilities in assisting engineers and designers in choosing the appropriate precast concrete product for their intended use.
Koni's indepth experience in our Quality Assurance department and his excellent work on concrete testing and design furthers our goals of providing a quality product that meets or exceeds the demands of the engineering community and our contractors.
We congratulate Koni on this achievement and look forward to the furthering of his engineering skills and abilities in the new position as Product Engineer working in our Chilliwack production facility.